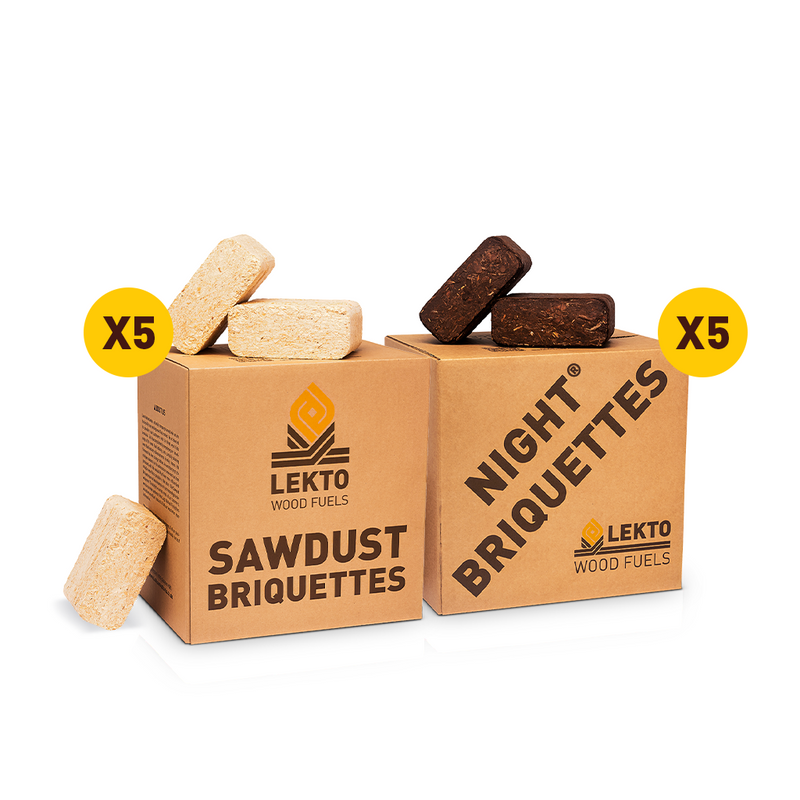 Day and Night Bundle
Regular price
£243.50
Sale price
£194.80
---
A bundle to keep you warm and toasty throughout the entire day.
Lekto Sawdust Briquettes are made from 100% pure hardwood birch sawdust. They catch fire quickly, don't spark or expand, can be used in any appliance, and burn for up to 2-3 hours, giving you steady heat throughout. Night Briquettes are designed to burn long and slow, for up to 8 hours, giving you cosy warmth throughout.
To keep the temperature going overnight, place 2-3 Lekto Night Briquettes on hot embers before going to bed and it'll still be burning when you wake up. The wood for both of these eco briquettes is harvested from sustainably-managed forests and no chemical additives are used during processing.
Bundle Includes
Take advantage of this special bundle to get a great £48.70 discount. Stay in control and save while doing it.
How Good Is the Deal?
Buying 5 Mini Packs of Sawdust Briquettes on their own will cost you £126.75. And 5 Mini Packs of Night Briquettes will cost you £116.75.
This puts the total value of the products in the bundle at £243.50.
By purchasing the products through this bundle, you will save a total of £48.70, when compared to buying the items separately.
Shipping & Delivery
FREE delivery to most UK postcodes on orders over £75. To learn about geographical restrictions and delivery rates to unsupported regions, see our Shipping & Delivery page.

Orders up to 320 kg are delivered by DPD. Orders above 320 kg are delivered by Palletways.

See our Shipping & Delivery page for additional information.

Possibility of Split Deliveries

Please note that DPD may split up your order into several parts and deliver them separately. This is due to the way heavy shipments are handled by their delivery systems. The second part of the delivery usually arrives within 2-3 days of the first one.
Ready to Burn Certification
Night Briquettes Certificate No. WS370/00004
Sawdust Briquettes Certificate No. WS370/00005