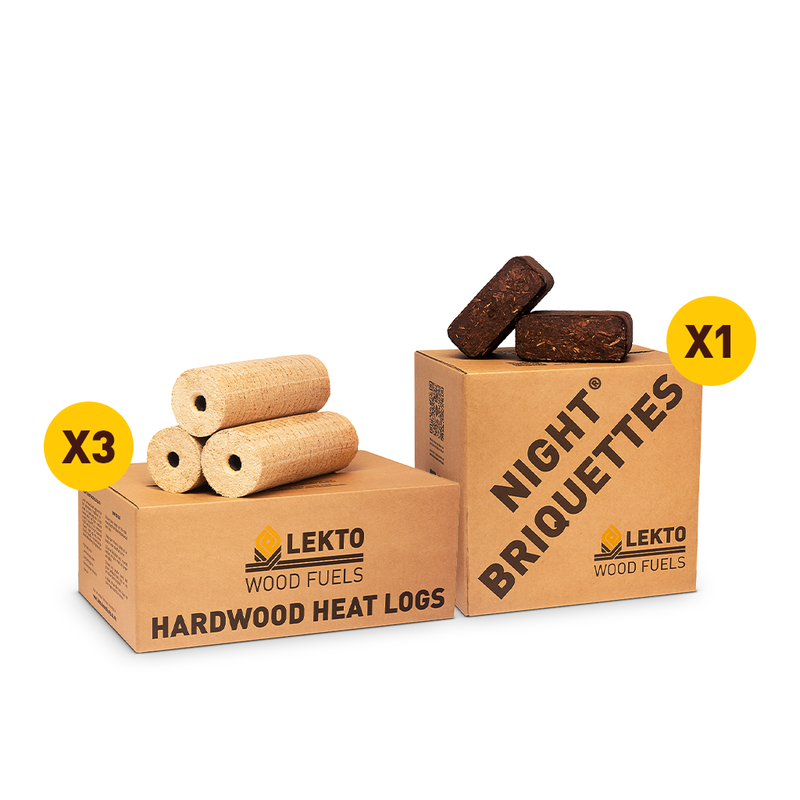 3+1 Mini Pack Special Deal
Regular price
£111.80
Sale price
£99.30
---
Buy 3 Hardwood Heat Logs Mini Packs and get a Mini Pack of Night Briquettes with a 50% discount.
Discover why we think these Heat Logs are the best alternative to traditional firewood with this fantastic deal. With their high heat output, these logs can be used to heat a room during the day. They are also the ideal complement to our Night Briquettes which can be used for overnight heating. And our Night Briquettes provide even, long-lasting heat for up to 8 hours! Buy 3 Mini Packs of Heat Logs and receive a Mini Pack of Night Briquettes for a fraction of the usual price!
Bundle Includes:
Take advantage of this special bundle to get a 50% discount on the Night Briquettes  (£12.50 value). Stay in control and save while doing it.

How Good Is the Deal?
Buying 3 Mini Packs of Hardwood Heat Logs on their own will cost you £86.85. And a Mini Pack of Night Briquettes will cost you £24.95.
This puts the total value of the products in the bundle at £111.80.
By purchasing the products through this bundle, you will save 50% on the Night Briquettes Mini Pack, or a total of £12.50, when compared to buying the items separately.
Shipping & Delivery
FREE delivery to most UK postcodes on orders over £75. To learn about geographical restrictions and delivery rates to unsupported regions, see our Shipping & Delivery page.

Orders up to 320 kg are delivered by DPD. Orders above 320 kg are delivered by Palletways.

See our Shipping & Delivery page for additional information.

Possibility of Split Deliveries

Please note that DPD may split up your order into several parts and deliver them separately. This is due to the way heavy shipments are handled by their delivery systems. The second part of the delivery usually arrives within 2-3 days of the first one.
Ready to Burn Certification
Night Briquettes Certificate No. WS370/00004
Hardwood Heat Logs Certificate No. WS370/00002